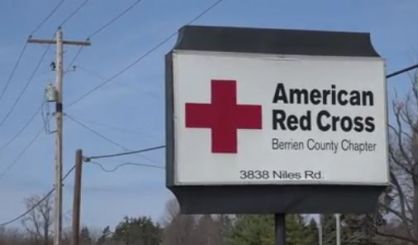 A request for blood donations is being made to the public due to a summer shortage. The American Red Cross on Wednesday issued an emergency appeal, with spokesperson Todd Kulman telling WSJM News the usual summer drop-off has been worse than usual this year.
"Blood donations have fallen short of expectations over the past roughly two months, and that's resulted in about 61,000 fewer blood donations than are needed, and that is causing a significant draw down of our Red Cross blood supplies," Kulman said.
Kulman tells us the Red Cross has responded to the blood shortage by increasing the available slots at drives and donation centers. You can sign up to donate at RedCrossBlood.org, by calling 1-800-Red-Cross.Below is a list of southwest Michigan blood drives planned for the next few weeks.
Berrien County:
Buchanan
7/7/2017: 12 p.m. – 5:45 p.m., Buchanan American Legion, 403 E. Front Street
Saint Joseph
7/10/2017: 11 a.m. – 4:45 p.m., Caretel Inns of Lakeland, 3905 Lorraine Path
7/14/2017: 12 p.m. – 5:45 p.m., Trinity Lutheran Church, 619 Main Street
7/19/2017: 11 a.m. – 4:45 p.m., American Red Cross, 3838 Niles Road
Bridgman
7/21/2017: 12 p.m. – 5:45 p.m., Our Lady Queen of Peace Church, 3903 Lake st
Van Buren County
South Haven
7/11/2017: 12 p.m. – 5:45 p.m., Moose Lodge 697, 1025 Wells St
Lawton
7/17/2017: 12 p.m. – 5:45 p.m., Evangelical Mennonite Church, 425 Nursery Street
South Haven
7/20/2017: 12 p.m. – 5:45 p.m., Peace Evangelical Lutheran Church, 06321 Blue Star Memorial Highway
Lawrence
7/24/2017: 12 p.m. – 4:45 p.m., Lawrence Conference Center, 490 South Paw Paw Street