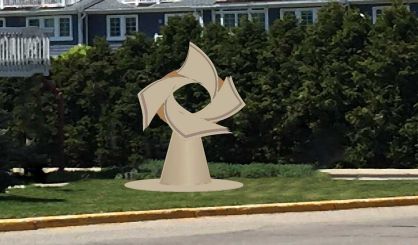 The Pokagon Fund has announced the commissioning of a new sculpture that will be displayed in downtown New Buffalo as part of the ongoing redevelopment project there. The fund has kicked in about $1.6 million in the effort to fix infrastructure and beautify downtown New Buffalo. Acting Director John Krsul tells WSJM News the sculpture by Sawyer-based Fritz Olsen represents Pokagon traditions.
"It has elements that are important of the context of the spirit wheel or the medicine wheel that is part of the Pokagon culture, a wheel that represents wind direction and spirit," Krsul said. "Fritz has added his own elements with flanges a the side which can be interpreted to constitute fire."
The $60,000 limestone sculpture should be done next year. It will be displayed permanently in downtown New Buffalo.
Pictured:  A Photoshopped representation of what the sculpture will look like when finished.