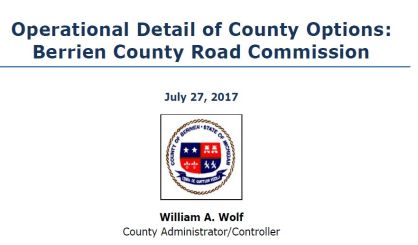 The Berrien County Board of Commissioners will hold meetings throughout the next few weeks as it looks at the possibility of taking over the county road commission. Berrien County Administrator Bill Wolf this week presented commissioners with a report outlining various options, along with their pros and cons. One of those options is to create a county roads department. Board of Commissioners Chair Jon Hinkelman tells WSJM News he's looking for the best synergy possible.
"What we're trying to do is think of this as just roads," Hinkelman said. "How do we get more taxpayer value, how can we do a better job on the roads. Is that possible with the taxpayer money that we have? That's what we're looking into at this point in time."
The Berrien County Board of Commissioners considered taking over the road commission back in 2013, but chose not to do so. This time, it looks like there's a greater chance it will take that step. Hinkelman tells us there will be more meetings over the next three weeks or so. Commissioners will speak with representatives of other counties where the same thing has happened.