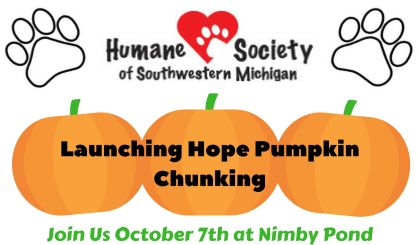 The Humane Society of Southwest Michigan is asking teams to get signed up now for an October fundraising event. The organization's Jill Svoboda tells WSJM News the Launching Hope Pumpkin Chunking Challenge will give everyone a chance to build their own machines to blast pumpkins for distance.
"We are looking for teams," Svoboda said. "We're giving teams the opportunity to build their own catapult, trebuchet, or cannon top compete for trophies and prices. We are looking for machines that chunk pumpkins."
October's event will be a qualifier for a national championship to be held in Delaware in November. You can register a team to start building your pumpkin-hurling device now at LaunchingHope.org. All money raised at the October event at Nimby Pond in Buchanan will go to the Humane Society.