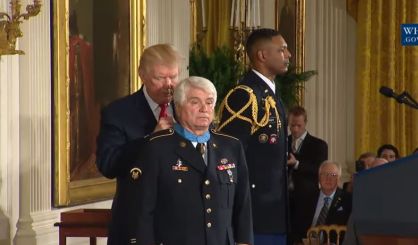 South Haven's James McCloughan is now a Medal of Honor recipient. President Donald Trump pinned the honor to McCloughan on Monday at the White House. The president said McCloughan saved the lives of ten men over two days during a battle in Vietnam, where he was a medic.
"Today, we pay tribute to a veteran who went above and beyond the call of duty to protect our comrades, our country, and our freedom," Trump said.
McCloughan was drafted to the Army in 1968. One well-wisher at the Medal of Honor ceremony on Monday was Congressman Fred Upton, who spoke with WSJM.
"This is a hero," Upton said. "This is a guy who stepped up, went to Vietnam, saved a number of his buddies lives, did the job he was supposed to do and came home. Others stepped up to the plate and said, 'You know what? This guy's a hero, and he ought to be recognized as such.'"
Upton helped approve legislation making McCloughan eligible for the Medal of Honor, removing a five-year time limit for it. McCloughan now goes on an outreach tour to talk with others about service.