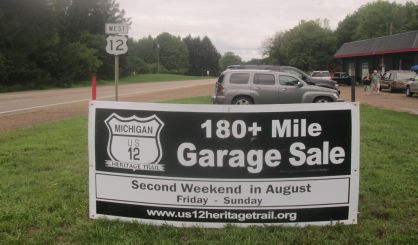 It's almost time for the 14th annual World's Longest Garage Sale. The event is held each year along the length of US-12 across Michigan. It features sales run by businesses and individuals in communities from New Buffalo to the east side. Kristopher Martin, with the Southwest Michigan Planning Commission, tells us it's a lot of educational fun.
"It goes into downtown City Center Park in Detroit, Michigan," Martin said. "That's where US-12 runs through. People make a weekend of it. The event runs Friday, Saturday, and Sunday and we've had people do the whole stretch. People come back year after year."
US-12 is one of the nation's oldest highways. It runs from Detroit to the Pacific coast in Washington state. The World's Longest Garage sale will be next Friday through Sunday. You can find out more at US12HeritageTrail.org.