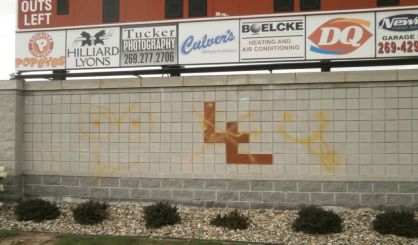 Lakeshore High School has already cleaned up most of the graffiti spraypainted on parts of Al Stockman Stadium this week. Lakeshore Schools Superintendent Phil Freeman tells WSJM News it happend on the track, the football field, and some of the out buildings. The vandals struck Monday night or Tuesday morning.
"We've got a lot of the vandalism already taken care of," Freeman said. "Spraypaint's already come down in the areas that we could accress and get down. Vandalism up, vandalism down. That's the most important thing you do when you see these types of things."
Freeman tells us they have surveillance video, and it's been handed off to police. The damages are between $3,000 and $4,000. Some of the spraypaint was yellow. Anyone with information on the crime is asked to contact the Lincoln Township Police Department.