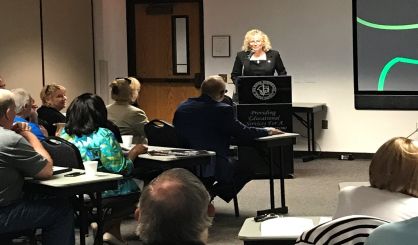 State Representative Beth Griffin has held her first local officials meeting. She tells WSJM News it's a tradition started by her predecessors to gather representatives of agencies that affect the lives of residents all over southwest Michigan. She tells us a big topic of discussion this week was education funding.
"The trend has gone up for per pupil for the last several years, and actually this year is the most per pupil funding that we've ever had for kids, and that includes increased money for at risk students and high school students," Griffin said.
Another big topic was road funding. The agencies on hand for this week's meeting were the Michigan Department of Transportation, the House Fiscal Agency, the Michigan Economic Development Corporation, along with a representative of Congressman Fred Upton. Everyone also got an update on the Palisades plant from Entergy.