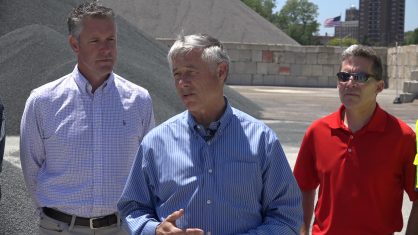 Now that the U.S. Army Corps of Engineers has released its long-awaited Brandon Road Lock and Dam study on the Asian carp, Congressman Fred Upton says it's time for Congress to take action. The report released on Monday outlines ways the invasive Asian carp could be kept out of the Great Lakes. Upton tells WSJM News the corps should now tell Congress if its ideas will really work. He thinks action could come soon after that.
"I'm glad that the corps report is now finally done, but now it's up to Congress to act to fund it, and I'm hopeful that we can do this, perhaps in the major infrastructure bill, which will be bipartisan, coming to Congress probably later this year."
That infrastructure bill was called for by President Trump. Upton tells us Great Lakes region representatives will try to get Asian carp money into the legislation. The Army Corps suggested solutions that include underwater noisemakers and a new flushing lock for the Chicago shipping canals to stop the dreaded invasive fish.