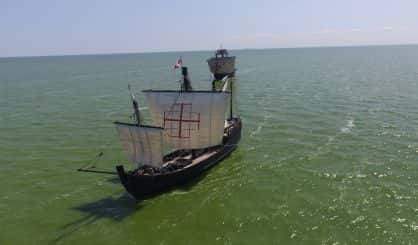 Coming soon to the Michigan Maritime Museum in South Haven will be the Nina and the Pinta. Not the originals, but replicas of two of the ships led by Christopher Columbus across the ocean blue in 1492. The museum's Ashley Deming tells WSJM News the Columbus Foundation built the two vessels.
"They use them as floating museums to be able to talk about early exploration by Europeans, as well as ship design during that period," Deming said.
The Nina and Pinta replicas will be docked at the Michigan Maritime Museum in South Haven at the Michigan Maritime Museum August 31st through September 4th.
"As an underwater archaeologist myself, I'm very excited to be able to get aboard these vessels and take a look at the ships' construction and talk to the crews about these two boats," Deming said. "It's going to be very exciting."
Deming tells us you can stop by and tour these near-perfect replicas of the Christopher Columbus ships during the stated days from 9 a.m. to 6 p.m. It's $15 for adults to get in. As for the Santa Maria — Deming says the Columbus Foundation is working on that.