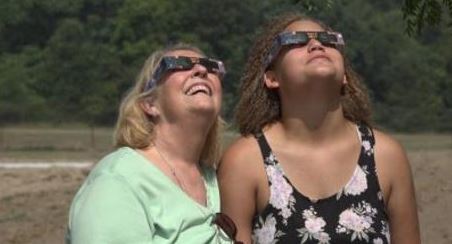 Crowds around southwest Michigan have had their chance to check out this week's solar eclipse. Viewing parties were held around the region on Monday as the sun was totally obscured by the moon for a few minutes. The Lincoln Township Library held one party, with organizer Vicki Rausch telling WSJM News she was pleased with the turnout.
"It's wonderful to see everybody come out to join together to see the eclipse," Rausch said. "Everybody is really having a good time. Having everybody here from all over the area is very nice."
A youngster named Colin showed up with his grandpa. He likened the sight of the eclipse to something out of Star Wars.
"My friend said it looks like the Death Star going past the sun," Colin told us.
The library handed out viewing glasses and the supplies to make pinpoint viewers. The Lincoln Township event was one of many organized by southwest Michigan libraries for the day.