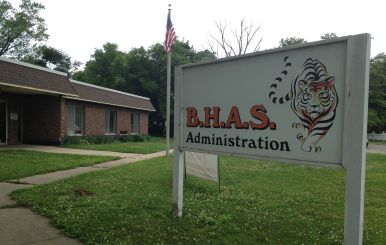 More information is now available on some vandalism done at a couple of Benton Harbor schools in the past week. Benton Harbor Department of Public Safety Deputy Director Michael Clark tells WSJM News the damage was found Saturday afternoon at the STEAM Academy and the Discovery Enrichment Center.
"They broke in, damaged some windows, went through the school building breaking exit signs and causing some other property damage such as taking a fountain off the wall," Clark said. "They also poured glue on some desks and on some computers."
Surveillance photos have enabled the school district to already identify one of the juveniles behind the crime. Clark tells us they're catching up to the others. A dollar estimate is not yet available for how much damage was done, but Clark tells us it's likely in the thousands. Meanwhile, you can make a donation to help the district recover the losses via the Berrien Community Foundation.