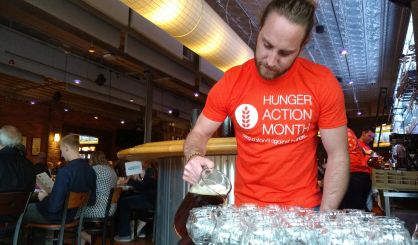 Feeding America West Michigan is using September as an opportunity to fight hunger by declaring it Hunger Action Month. The organization's Sean Little tells WSJM News there are four things it's urging people to do.
"Advocacy, awareness, donating, and then volunteering as well," Little said. "Throughout our website, there is information to get involved in any of those."
That website is FeedWM.org. Little tells us one in eight Michigan residents faces food insecurity, as do one in five Michigan children. Several west Michigan breweries are working with Feeding America West Michigan for Hunger Action Month to raise money. Among them will be the Livery, Silver Harbor Brewing, and Watermark Brewing. Each will be holding special promotions in which portions of beer sales proceeds will go to fight hunger. You can find out more at HopsAgainstHungerMI.org.