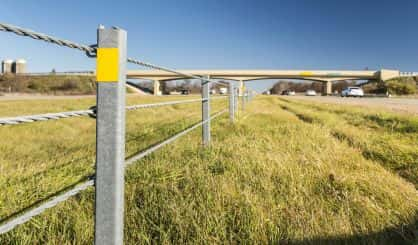 A new public-private partnership is resulting in the addition of new cable guardrails to a stretch on I-96 in Michigan. The Michigan Department of Transportation's Jeff Cranson tells WSJM News the Mitchel Kiefer Foundation was founded by a General Motors executive who lost his son in a car crash on the highway. It's working with MDOT to pay for about 1.7 miles of cable rail in Ingham County.
"The foundation is matching state and federal funds, and it's about $300,000 to do that," Cranson said. "It's the first time a private entity, a foundation, has come forward and wanted to invest in this kind of safety infrastructure."
Cranson tells us MDOT is open to additional partnerships along these lines. There are about 380 miles of cable barrier in highway medians around Michigan, and MDOT is planning for about 20 more miles in the next two years. Work on the newest stretch of cable rails will begin next week.