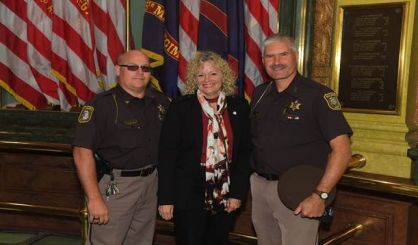 First responders from around southwest Michigan have been welcomed to the Michigan Capitol to mark 9/11 for the year. The state House held its annual September 11 Memorial Service Thursday. Mattawan state Representative Beth Griffin welcomed Van Buren County Sheriff Dan Abbott and Van Buren County Undersheriff Chad Hunt as her guests.
"It's a true honor for me to have these community servants here with me today, and I just want to thank everyone, every law enforcement officer out there," Griffin said. "First responder, firefighter, thank you so much for what you do."
Meanwhile, State Representative Dave Pagel of Berrien Springs was joined by Berrien Springs-Oronoko Township Police Officer Rick Smiedendorf. Also, Bainbridge Township state Representative Kim LaSata hosted Berrien County Court Security Supervisor Fredrick "Rick" Lull. The annual ceremony salutes Michigan first responders and military personnel who have died in the line of duty.