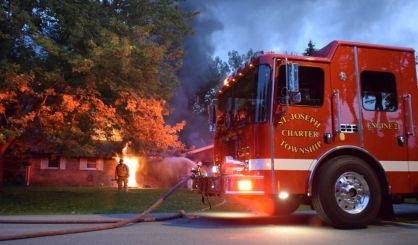 A St. Joseph Township man has a simple but important message for everyone after he escaped unharmed from a fire that destroyed his house early Sunday morning.
"Check your smoke detectors, get new ones, go to the fire department. Most of them will give them to you," says Mark Parren. "Give them as gifts. Don't give some piece of junk. Take them a smoke detector, put it up yourself to make sure it's up and operating."
Parren is known for his previous work as a firefighter and EMS in the area, and also photographs fires and crashes for area media outlets. He stopped in to WSJM to talk about how his smoke detectors woke him up at 2 a.m. and saved his life.
"In my dreams I hear this beeping and I sort of incorporated it into my dream. I thought it was my phone going off again to tell me it was raining or lightning or whatever it was." Nope. Turns out, it was the smoke detector. Parren says he's sure everything in the house, including a Civil War bible, is destroyed but he managed to get his vehicles out of the garage before it went up in flames. He says the fire appears to have started in the basement, but no cause has yet been determined.
Photo courtesy of Mark Parren