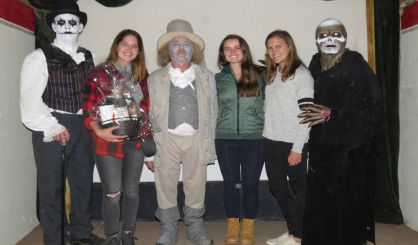 It's yet another milestone for the Niles Scream Park. Secretary Christina Rhebergen tells WSJM News they broke their all-time single day attendance record this past Saturday. Just under 13,500 people walked through the gates.
"This was the first time ever we ran out of room in the parking lot," Rhebergen said. "They seriously were thinking about mowing down the corn to make more room."
Not only that, but Rhebergen tells us the day before, on Friday the 20th, the scream park welcomed its 1.9 millionth visitor of the past 40-plus years. That person was Brooke Schmidt of Chicago, who received a special gift package for the honor. Rhebergen tells us all of that comes on the heels of a record Friday with this month's Friday the 13th. She's hoping the Niles Scream Park will see visitor number 2 million next year.
Pictured: The Scream Park's 1.9 millionth visitor holding her gift package.