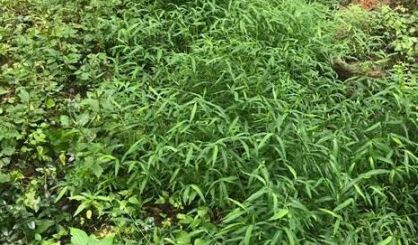 A new invasive plant species has shown up in southwest Michigan. The Van Buren Conservation District's Eleanor Serocki tells WSJM News Japanese stilt-grass has been found along a former snowmobile trail near Niles. It's a persistent grass that can choke out native ground plants.
"It can grow very delicately," Serocki said. "It gets to about three feet and then it will bend over and touch the ground again. This means that it grows very densely and it spreads quickly enough that it can shade out other grasses that are in forest understories."
The Van Buren Conservation District is hoping people who spot the Japanese stilt-grass will notify them. That way, the district can come up with an action plan to fight the plant come spring. So far in Michigan, the invader has only been detected in the Ann Arbor and Niles areas. It's been a problem farther south for decades.