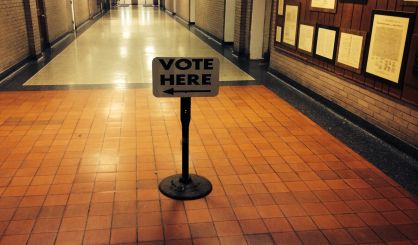 Michigan Secretary of State Ruth Johnson is reminding everyone there will be local elections in the coming month. The date is set at November 7. Johnson tells us many voters will be using brand new voting machines this time around, so they may want to familiarize themselves with the new technology. That new equipment will be in use in 49 Michigan counties, including Berrien. Specifically, they'll be rolled out in the Stevensville, Benton Harbor, and St. Joseph areas.
Secretary Johnson says the new systems all use upgraded digital optical-scan technology, which includes improvements and increased ease of use for voters and election administrators. There are also many differences behind the scenes. You can find out everything you need to know about voting in Michigan at www.Michigan.gov/vote.
Here in Berrien County, issues to be decided November 7 will include the Benton Harbor income tax, a road millage in Chikaming Township, and a Lakeshore Schools millage renewal. Voters in St. Joseph will also pick three city commissioners, and voters in Benton Harbor will decide two races for commissioner-at-large, electing three candidates. You can find out more at BerrienCounty.org/Elections.