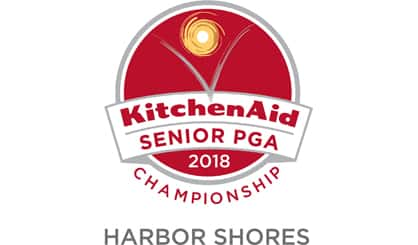 The logo for the 2018 KitchenAid Senior PGA Championship is now at center ice of the John and Dede Howard Ice Arena in St. Joseph. The arena opens this weekend for the season, and city leaders and tournament officials gathered for the unveiling yesterday. KitchenAid Senior PGA Championship general chairman Sam Abdelnour spoke to our partners at WNDU NewsCenter 16.
"Golf is a game this community thrives on. There are more golf courses around this southwest Michigan area than a lot of places," he said, adding "it's always interesting and more fun when we can attract every generation."
The tournament will be held May 22 through 27 next year.