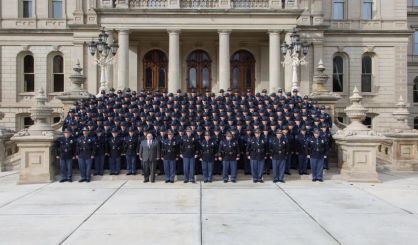 There are some new Michigan State Police troopers coming to southwest Michigan. State Police graduated their 133rd Trooper Recruit School this week, announcing the locations to which all 127 graduates will be sent. Paw Paw-based Michigan State Police Lieutenant Dale Hinz tells WSJM News the Niles post is getting five new troopers, and the Paw Paw post is getting 8 more. He says adding eight new members to the staff will require some adjustments.
"It will definitely be a challenge, something that we're not used to here in Paw Paw with that number being assigned at one time, but we are definitely ready for them and excited to begin their field training," Hinz said.
Michigan State Police recently identified a need to get hundreds of new troopers around the state in the coming years due to retirements on the horizon. The newly-assigned recruits will train in the field for 20 weeks at their posts before becoming full-fledged troopers.
Pictured: The 127 recruits who graduated this week from the MSP trooper recruit school.