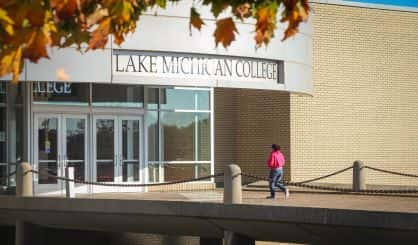 Lake Michigan College will soon have a new system in place to help students stay on track academically. At a Thursday meeting, the LMC Board of Trustees approved the purchase of the EAB Student Success Management System. The cost — $768,000 with about half being paid by federal Title III funds. LMC Vice President of Academic Affairs Leslie Kellogg told WSJM News EAB is software that watches a student and and alerts them if it sees trouble.
"It does a lot of tracking of factors that lead to student success, like grades and enrollment, making sure students are on path once they've selected their major," Kellogg said.
Kellogg says it's just one of the many fancy new ways of helping students make it.
"It's a really cool student success support package," Kellogg said.
The purchase authorized on Thursday also went with a $140,000 contract for the National Center for Inquiry and Improvement to administer the system. It's totally covered by Title III funds and will be for five years. The EAB system should be in place in January.