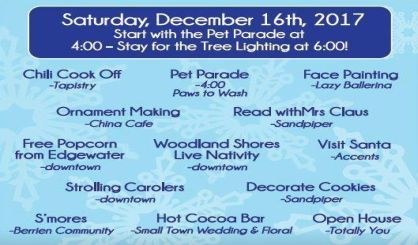 If you're in the Christmas spirit, then downtown Bridgman is the place for you this Saturday. Calli Berg with the chamber of commerce tells WSJM News Bridgman is holding its annual Holiday Village.
"It is a great big excuse to throw a party and light the Christmas tree," Berg said. "There are only 2 times that folks need to remember. We always start Holiday Village with our pet parade, and this year, that will be at 4 o'clock leading from Paw to Wash, and we always wrap up festivities with gathering, signing carols, and lighting the tree."
That's at 6 p.m. Also going on Saturday in Bridgman will be a pet adoption event, a chili cook-off, a holiday bazaar, hotdogs, pizza, hot chocolate, popcorn, live music, and a bonfire. Berg tells us downtown Bridgman will definitely be the place to be. The chamber has a schedule for the Holiday Village at its Facebook page.
Below is a list of all the vendors taking part in the Holiday Village and what they'll offer.
Country Stitches — merchandise
Edgewater Bank — popcorn
Friends of the Library — alphabet soup
Hay Market — merchandise
Paws to Wash — merchandise
Rochefort's The Next Generation  — hot dogs with a condiment bar at the pop up street market
SmallTown Wedding & Floral  — hot cocoa
West Woods of Bridgman  — hot cider
Kendell Lucille Hair Co. —  goodie bags
Lake Street Eats  — cheese pizza and dog treats.
Lazy Ballerina — mulled wine