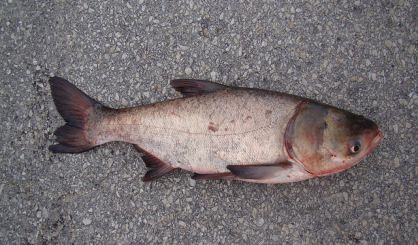 Michigan Attorney General Bill Schuette and two other state attorneys general have sent a letter to the U.S. Army Corps of Engineers asking more to be done to stop the Asian carp. Specifically, they're asking for a physical barrier to be installed in the Chicago shipping canals to stop the Asian carp from getting into Lake Michigan. AG spokesperson Megan Hawthorne tells WSJM News this follows the recent release of the Brandon Road Lock and Dam study.
"The Brandon Road study, the Army Corp tentatively selected a plan which would retrofit the Brandon Road lock and dam with a combination of technologies intended to deter the movement of the Asian carp, but the closure of the lock would be, the attorneys general believe, would be a more permanent and effective way."
Hawthorne tells us Schuette has been vocal on the issue of Asian carp since taking office. Experts warn the invasive fish would be devastating to Michigan's fishing and recreation industries if it gets into the Great Lakes. Also signing Schuette's letter this week were attorneys general from Pennsylvania and Minnesota.