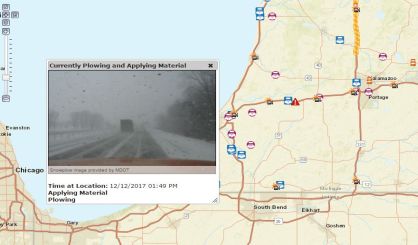 The Michigan Department of Transportation now has a fleet of 83 plows driving around southwest Michigan roads with a winter storm this week. Spokesperson Nick Schirripa tells WSJM News a resource drivers can use to learn more about road conditions is Michigan.gov/MIDrive.
"You'll get two color icons, a blue icon and a purple icon," Schirripa said. "They'll pop up on the map where our plows actually are. If you click on any one of those icons on the map, the blue icons will tell you if it's salting or plowing, and the purple icon will tell you that, but they'll also give yo a snapshot of what the plow operator is actually seeing through their windshield."
Schirripa tells us the MDOT plows stay out 24-7 when snow is happening. They generally do not use salt and sand mixes like the Berrien County Road Department. Schirripa says using sand just messes up the highway, so MDOT uses regular old salt. Schirripa reminds drivers they are supposed to go as slow as needed on the highway. If the highway is covered with ice, that 55 mile per hour minimum speed limit can be disregarded. Schirripa also advises all drivers to give plows plenty of room.