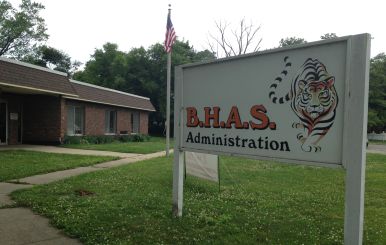 The middle school principal at Benton Harbor Area Schools will keep his job. After three closed sessions Tuesday night, the board of education voted unanimously on a resignation letter that Arts and Communication Academy Principal Fred Roseburgh had previously signed.
"The resignation agreement between Fred Roseburgh and Benton Harbor Area Schools signed by Mr. Roseburgh and Superintendent Dr. Shelly Walker on December 1, 2017 is rejected," Trustee Steven Mitchell read.
The board had to meet with its law firm to reach a decision. According to The Herald Palladium, Roseburgh was put on leave after an investigation into possible assault involving a student began in October. However, Berrien County Prosecutor Michael Sepic determined there would be no charges filed. Benton Harbor Superintendent Shelly Walker is pleased to bring Roseburgh back.
"Mr. Roseburgh has been an integral part of this community and district, no question," Walker told WSJM News.
Roseburgh was ordered back to work after 15 days unpaid suspension. He declined comment after the meeting.