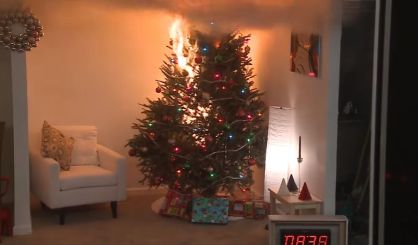 Michigan State Fire Marshal Kevin Sehlmeyer is reminding everyone to be careful about their Christmas trees. He tells WSJM News a tree can go up in flames within a matter of seconds, and then there goes your house. Sehlmeyer tells us you should shake your tree to make sure it's not shedding needles quickly. If it is, that means it's pretty dry. Keep it watered.
"From the bottom of the trunk on the tree, trim an inch and a half or a couple inches off the bottom," Sehlmeyer said. "The idea here is that these trees have been cut a while ago, and you want to be sure that the water can get up into the tree."
Sehlmeyer says the worst thing you could do in regards to your Christmas tree is decorate it with candles. He also recommends checking out the electric lights you put on the tree to make sure none of them are damaged. Finally, keep the tree away from heat sources. We have a video of a Christmas tree going up in flames just down below. If the embed doesn't work, click this link.