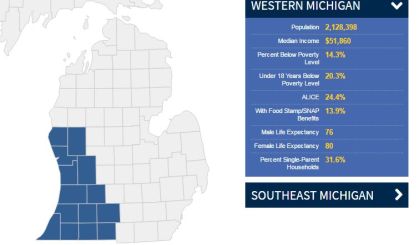 A new map has been created to provide a snapshot of poverty around Michigan. Developed by the University of Michigan and Poverty Solutions, the map identifies each county's median income, population, percentage of the population living below the poverty line, and the percentage of the population classified as ALICE, or Asset Limited, Income Constrained, but Employed. Poverty Solutions Director Luke Shaefer spoke with Michigan News Network about the project.
"We think that by looking at a range of things, we can learn more about the challenges facing communities and the strengths that they have," Schaefer said. "So, we hope this is one of those public service we can provide and use it as a way to engage people across the state to learn more about their communities."
In Berrien County, 16.7% of the population is identified as being below the poverty line. For Van Buren County, it's 16.5%, and for Cass County it's 12.9%. In all of west Michigan, the county with the lowest poverty rate is Barry County at 8.4%. Muskegon County has the highest poverty rate at 18.8%. Shaefer says having these snapshots can help policy makers. You can see the poverty map right here.