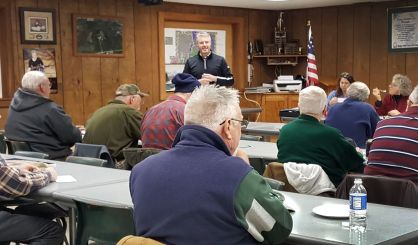 State Senator John Proos is saluting conservation and sportsman groups as he promotes the Michigan Natural Resources Trust Fund. Proos last month met with the St. Joseph County Conservation and Sportsman Club in Sturgis to talk up some of the trust fund's latest parks projects. He tells WSJM News he always listens to the thoughts of such organizations.
"These clubs really do play an important role here in our southwest Michigan region to ensure that safe hunting and fishing and trapping practices are utilized, and they really participate in something that's just as important, which is conservation of wetlands and conservation of outdoor recreation and activities," Proos said.
Proos tells us hunting and fishing account for a great deal of economic activity in Michigan each year. He is a member of the Michigan Legislative Sportsmen's Caucus, a group of lawmakers who support sportsmen's rights.