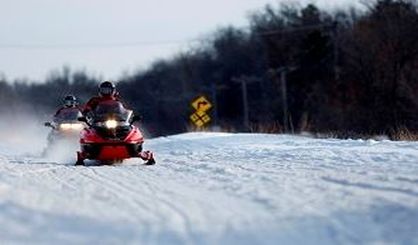 Don't drive a snowmobile on ice. That's the advice of the Michigan Department of Natural Resources. Law Enforcement Division Lieutenant Tom Wanless spoke with WSJM News about snowmobile safety.
"There's never really a great time to operate a snowmobile on the ice because you never know what the ice conditions are from one area of the frozen surface to the other," Wanless said. "There are so many factors that go into the making of ice and the strength of ice. We would encourage people to stay off of it."
Wanless says snowmobilers should also take care not to go too fast and never ride after consuming alcohol. He adds there are safety courses that everyone's encouraged to take. Getting a certification could lower your insurance costs. Finally, don't trespass. Wanless says if you don't know whose property you are on, you probably don't belong there.