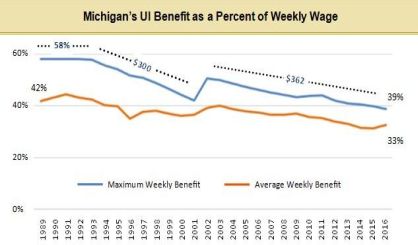 The Michigan League for Public Policy is calling for several changes to the state's unemployment insurance system. League Policy Analyst Peter Ruark tells WSJM News the maximum benefit hasn't been raised since 2002, low-income workers don't even qualify for help, and the legislature in 2011 reduced the amount of time someone could receive benefits.
"Michigan did something pretty radical and unheard of several year ago," Ruark said. "Michigan was actually the first state to cut the maximum number of weeks."
The limit is 20 weeks in Michigan. Ruark says Michigan's unemployment system helps laid-off workers far less than the systems in surrounding states. He says helping folks who are looking for work support themselves during that process is better for the economy. He hopes state lawmakers will work on reforms this year. You can find the full Michigan League for Public Policy report right here.