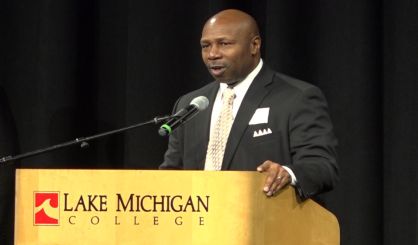 Retired Michigan State Police Trooper Maurice Burton is the recipient of this year's recipient of the Lake Michigan College Diversity Award. He received the honor at Monday's 23rd annual LMC Dr. Martin Luther King Jr. Breakfast Celebration. Burton reflected on his 31 years as a Michigan State Police trooper, running local youth programs.
"One thing I didn't want to do is get involved in politics, so I kept the children in sight," Burton said in his acceptance speech.
Burton said he was humbled and honored to receive the Diversity Award. Past Diversity Award winners have included retired Whirlpool CEO David Whitwam, former Benton Harbor City Manager Dwight "Pete" Mitchell, and Michigan Works of Berrien, Cass, and Van Buren counties.