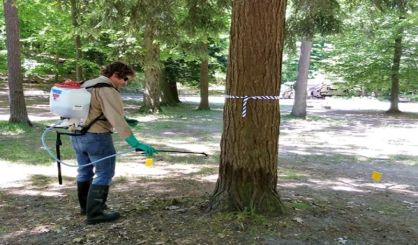 The Michigan Department of Natural Resources is giving out $3.6 million in grants around the state to fight invasive species. The DNR's Joanne Foreman tells us the Van Buren Conservation District is getting $60,000. One problematic invasive plant around this region is the hemlock woolly adelgid.
"That is currently hitting areas of southwest Michigan, mostly along the lakeshore," Foreman said. "We're finding more and more infestations on hemlock trees, and we're really concerned about this because hemlock makes up an important part of our forest and river corridors."
Foreman says the best way to fight invasive species is to stop them before they get established. She points to the emerald ash borer as an example of an invasive species that got out of hand. It damaged trees throughout the state. The DNR is making these grant dollars available in all of Michigan's 83 counties.