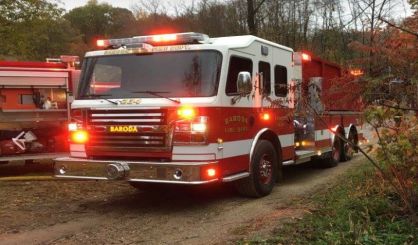 The Baroda Fire Department will hold its annual firefighters appreciation dinner this Friday night at the Round Barn, and some volunteers will be saluted for their many years of service. The department's Griffin Ott tells WSJM News one firefighter, in particular, is being honored in Baroda.
"This year, we are very excited because one of our firefighters has reached a milestone that no one in our department's history has ever reached before," Ott said. "Firefighter John Chvila will be receiving his 50-year award pin."
John Chvila is a local barber with a shop on First Street.
"Often when there's a fire, you'll see a sign in his barber's chair that says 'Gone to a fire,' and he's been known to leave people with half a haircut in his chair to go help fight a fire."
Ott says he's not aware of any other firefighter in Berrien County with 50 years of service like Chvila. Also being honored on Friday are firefighters who have served 30 years, 10 years, and five years. Ott says the Baroda Fire Department has 21 firefighters with a total of 354 years of experience. All are volunteers.