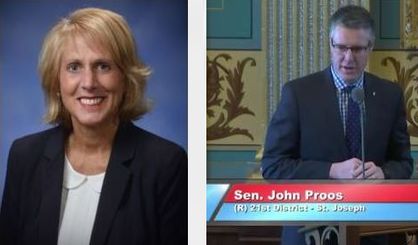 Lawmakers from southwest Michigan are giving positive marks to Governor Rick Snyder's State of the State address on Tuesday night. State Senator John Proos has been there for all of Snyder's addresses, and tells WSJM News he was pleased to see the governor put an emphasis on career and technical training.
"His focus on career and technical education matches what I hear every day in southwest Michigan," Proos said. "I hear every day the need to invest in that talent skills pipeline to ensure that we've got folks who can actually fills those jobs that are available today, and prepare to put our kids on a path to fill those jobs of tomorrow, too."
Proos also noted Snyder's mention of criminal justice reforms that could better serve communities while ensuring released offenders can succeed. Meanwhile state Representative Kim LaSata told us she was glad Snyder addressed sex assaults on college campuses.
"Also, I was surprised he mentioned Dr. Nassar," LaSata said. "I guess I was pleasantly suprised he brought that up and didn't shy away from it because, as you know, that's a terrible situation at Michigan State."
LaSata was glad to hear the governor end his State of the State with a call for civility in Lansing and echoed Proos' praise for the focus on technical training. Lawton state Senator Tonya Schuitmaker tells us she was glad to hear Governor Snyder tout progress Michigan has made in the past several years. She adds it's now time for tax reforms "to give relief to families throughout the state." A fight is shaping up with the GOP-led Legislature on cutting individual taxes, which Snyder opposes for budgetary reasons.