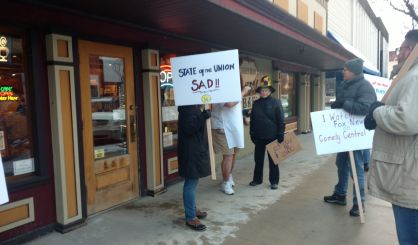 Golden Brown Bakery President Dave Braschler is overall satisfied with Tuesday's Fox News visit to his South Haven location. A reporter from Fox stopped by to get the thoughts of customers on President Trump. Although word of the visit prompted some protesters to show up, Braschler tells WSJM News they were well-behaved.
"All the different factions seemed to be out in full force here, and everybody was cordial and respectful," Braschler said.
Fox News chatted with customers at a booth for part of Tuesday morning. Braschler is glad to report many who showed up bought something.
"To me, it's really about selling donuts," Braschler said.
The excitement attracted visits from Democratic congressional candidate Rich Eichholz, staff from state Representative Beth Griffin's office, and the local GOP chair. Braschler says it was just nice to see downtown South Haven busy on a winter morning.