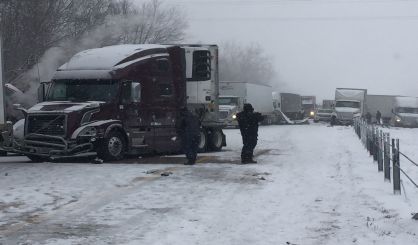 Michigan State Police are investigating a multi-vehicle crash on westbound I-94 near Hartford Friday morning. It happened around 9:20 a.m. during periods of heavy lake effect snow. The crash involved 17 semis and 12 passenger cars, and an exact number of injuries is still being determined. At least one individual was pinned in his vehicle for a short period of time.
The pile-up closed westbound I-94 for a few hours Friday morning. It reopened around 12:30.
State police remind drivers to use extra care when driving in snowy conditions. Reducing speed and increasing following distance between vehicles allows drivers time to react to hazards which can prevent these multi-vehicle crashes.