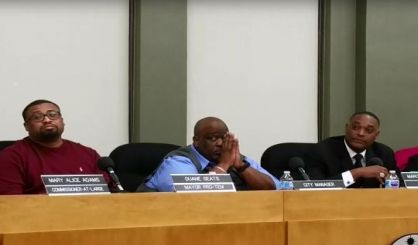 Darwin Watson remains the city manager of Benton Harbor. However, at a meeting Wednesday, city commissioners voted down a resolution to renew his contract for one year. At the meeting called by Commissioners Juanita Henry and Mary Alice Adams, Mayor Marcus Muhammad said he thinks Watson has done a good job.
"Do we go and grab somebody off the street, and throw them into the manager's position in the interim after decapitating a man who has served and worked and guided when this city has had the first clean audit in the last 50 years?" Muhammad said. "I just don't think that that's wise."
The motion to extend the contract failed five to four. Voting no were Commissioners CF Jones, Mary Alice Adams, Juanita Henry, Ruthie Haralson, and Ron Singleton. Voting yes to extend the contract were Mayor Muhammad, Mayor Pro Tem Duane Seats, and Commissioners Sharon Henderson and Edward Isom. Commissioner Singleton told WSJM News he just wants input on contract details.
"What is the big rush?" Singleton said. "It should go through a committee, as all other resolutions go through a committee, and it's vetted out and we come to some type of agreement before it comes to the board."
The city manager's contract just continues until the commission takes further action. That could happen at any time. We'll hear more when there's another meeting.