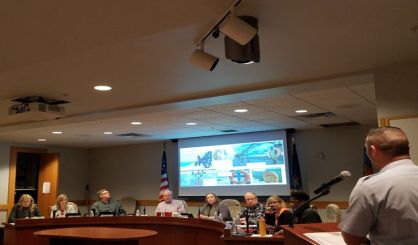 The city of St. Joseph could add life rings to its north pier. At Monday's meeting, city commissioners heard from U.S. Coast Guard Petty Officer Lazaro Lopez, who told them it is the Coast Guard's safety recommendation rings be added at 150 foot intervals starting at the call box. Lopez said an increasing number of people walk the pier since recent lighthouse renovations.
"Things change over time based on need, and I believe that need is now," Lopez said.
Lopez said there have been multiple incidents at the north pier, and having life rings creates a chance for someone to be saved if they fall off. It wouldn't take much to install the rings.
"If we wanted to put life rings up tomorrow, trying to find the easiest solution we can find, it would cost $2,300," Lopez said.
There is the issue of maintenance, with a need to keep around replacement rings and also check on the rings regularly. The city stopped having life rings at the pier in the 1990s due to liability concerns. Commissioners Monday indicated an interest in pursuing an agreement with the Berrien County Sheriff's Department to make a life ring program work. The city manager has been told to come back to them with more information.