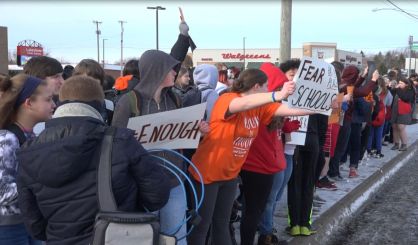 High school students at schools around southwest Michigan and the entire country have raised their voice to speak out against violence. At Lakeshore High School Wednesday morning, the kids walked out to chants of "enough is enough." One of the walkout's organizers, senior Anna, told WSJM News the recent school shootings in Parkland, Florida have resonated with students.
"A lot of these other shootings, they were shut down pretty quickly," Anna said. "We're like, 'OK, this is sad, and then we moved on,' but I saw this and it kept lingering and people kept talking about it…I don't want it to end. I want this to continue to be a movement and for us to finally make a change."
Anna told us she's gotten plenty of support from classmates.
"There are a couple of other students who were helping me out with it a little bit, and I was pretty surprised by the response of how kids participated," Anna said. "Very positively surprised."
Students also walked out at St. Joseph High School Wednesday, although the press wasn't allowed to talk to them. There were also walkouts in Berrien Springs and Paw Paw. Many of the protests were staged with the knowledge of school administrators.