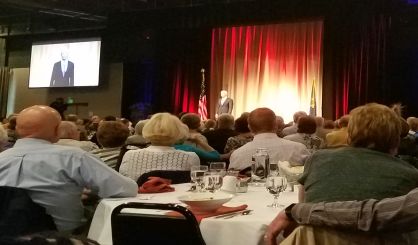 A lifetime of learning, training, and self-improvement. Those are among the things Captain Chesley "Sully" Sullenberger believes led up to the famous "Miracle on the Hudson."
In an address to the Economic Club of Southwestern Michigan Thursday at the Mendel Center in Benton Township, Sullenberger said he grew up in a family that valued education, he never stopped honing his skills as a pilot, and always believed in sacrifice.
Sullenberger told the story of the 208 seconds on January 15, 2009 when he and his crew successfully landed an Airbus in the Hudson River in New York City after the plane's engines had gone out. Things Sullenberger had learned throughout his life prepared him for that moment. He said the keys to surviving were never giving up, using learned skills, and having realistic optimism.
Sullenberger also stressed the need for lifelong learning, and said he'll continue to advocate for passengers.
When asked what he thought of the Clint Eastwood film named after him — in which he was played by Tom Hanks — Sully said he wished the NTSB investigation scenes were more nuanced, adding the NTSB team's very necessary job was to find the truth.
The Economic Club of Southwestern Michigan's next speaker will be Steve Martin on May 8.