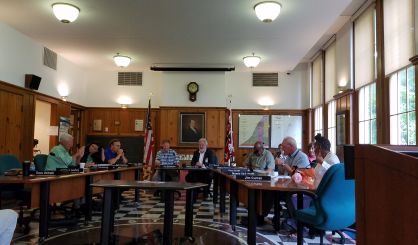 The Berrien County Board of Commissioners has unanimously approved a resolution opposing legislation from state Senator John Proos that would exempt utility properties from personal property taxes. The bill is intended to reduce the cost of equipment upgrades from major utility companies, but county commissioners say it would hurt the bottom lines of municipalities. Berrien County Board of Commissioners Chair Jon Hinkelman told WSJM News the body wanted to send a message.
"This is something that will deeply affect the local people, and so it's a way for us to make sure that we are trying to get the point across," Hinkelman said.
Commissioners tabled a resolution against the Proos bill last week, hoping to talk with the senator about the legislation. However, many said Thursday morning they hadn't talked with him.
"I'm sure his schedule is busy, but the board felt passionate about this and so they wanted to make sure that they at least got in at the early discussion level," Hinkelman said.
The county resolution will be sent to all other Michigan counties in the hope they'll also consider it. Commissioner Jeanette Leahey said Thursday she's found communication on this matter with Proos to be disheartening.