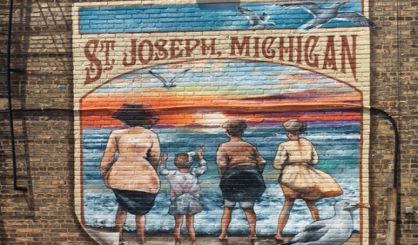 A new 14 by 12 foot mural has been painted on the outside brick wall of the St. Joseph Welcome Center downtown. St. Joseph Today's Amy Zapal tells WSJM News the organization hired Houston-based artist Anat Ronen to spruce up the alley wall that faces Main Street. The mural was finished late last week.
"It was inspired by some of the South Shoreline Posters from years ago," Zapal said. "It's sort of an art deco take on a South Shore Poster. It shows beautiful Silver Beach with a family their back toward Main Street as they're putting their toes in the water."
Zapal tells us St. Joseph Today wanted to beautify a wall that was strictly functional in order to attract visitors to the downtown. You can see the mural from Main Street as you drive by. The St. Joseph Improvement Association was a big backer. Zapal says everyone she has heard from loves the new art.