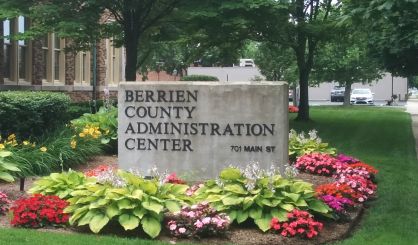 A massive project to clean up Ox Creek in Benton Township and Benton Harbor will continue with grant money from the state after the Berrien County commission approved a resolution to protect the county from being stuck holding the bag if the Department of Environmental Quality demanded any money back. The DEQ approved a grant of $743,000, but it was later discovered the Drain Commissioner's office used the county's tax ID number by mistake on the application. Drain Commissioner Christopher Quattrin said Ox Creek is the dirtiest creek in the county, and one of the dirtiest in the state, adding there are several things their project will address.
"When Roger (Zilke), my predecessor, started this, he estimated that the drain project would run somewhere between $4.5 and 5 million," said Quattrin. "On the upstream portion of that, we are looking somewhere at about $2.5 million at this point, and there are multiple divisions or phases to this."
The resolution approved Thursday was done against the advice of the county's legal counsel and Administrator Bill Wolf. County Commissioner Teri Freehling said given water issues elsewhere in the state, the project needs to be done.
"Clean water is important, and it is an economic development consideration," said Freehling.
Quattrin says the creek is the dirtiest in Berrien County and one of the dirtiest in the state. He says he recently looked at part of the creek from Napier Avenue to the Paw Paw River and saw things including oil tanks and refrigerators dumped in the drain area.
The watershed includes the Orchards Mall, Meijer, Home Depot, and the area where several new hotels ave been or are being built. Quattrin says the hotel projects have been helping.