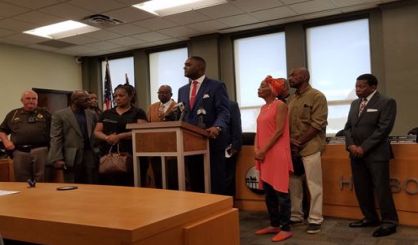 "Stop the violence, stop the silence." That's the message from Benton Harbor Mayor Marcus Muhammad as he and other community leaders spearhead a new initiative to reduce violent crime in the city. At a Thursday press conference, Muhammad stood with police and church leaders to appeal for unity in Benton Harbor.
"I have come to the painful and sobering reality that it will take all," Muhammad said. "I think we need to set aside our differences for the sake of the community."
The meeting comes after four people were shot this week in the city. Muhammad invited those who have lost a loved one to gun violence to step forward to show these crimes affect more than just the victims. Benton Harbor Public Safety Director Dan McGinnis has announced Operation Mayberry, a five-year plan to bring in more law enforcement resources and reach out to schools, churches, and neighborhoods. McGinnis told us people need to know they can speak out when they see something.
"We want people to know that if they say 'I don't want to be identified' for tips, then they can trust us," McGinnis said. "That goes to our mantra — trust, loyalty, integrity."
McGinnis said fighting apathy is essential. He said a new effort has to be put into drug enforcement and gun buybacks. At Thursday's gathering, the Berrien County Sheriff's Department announced extra overtime patrols in Benton Harbor with a commitment of $25,000 from the county administration