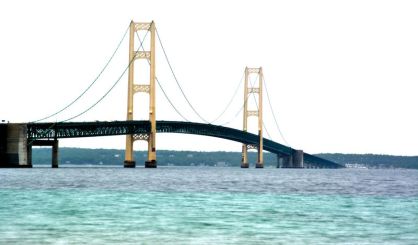 A tunnel will be built in the bedrock under the Straits of Mackinac to house a new pipeline to replace Enbridge Energy's 65-year-old Line 5 pipelines. Governor Snyder's office announced the agreement with the Canadian firm, saying Enbridge will pay the entire cost of the project. It's expected to take between seven and 10 years and will cost as much as $500 million. Environmentalists and elected officials have been calling for the pipelines to be shut down for years, warning of dire consequences to the Great Lakes if they were to leak. Line 5 carries crude oil and natural gas from western Canada to refineries in Sarnia, Ontario. Congressman Fred Upton, Attorney General Bill Schuette, and Upper Peninsula Congressman Jack Bergman are among the elected officials hailing the agreement. Supporters say the deal protects the lakes and ensures reliable energy. But it's sure to draw criticism from groups that oppose any oil shipments in the straits area.
WSJM News has reached out to Congressman Upton to discuss the agreement, as he has long supported replacing the Line 5 pipelines.
The Associated Press contributed to this report.