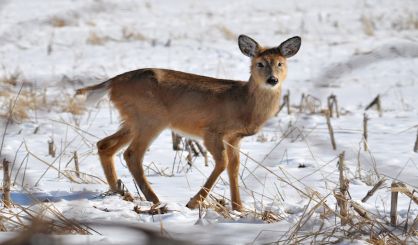 With hunters now hitting the woods, the Michigan Department of Natural Resources is asking them to be on the lookout for bovine tuberculosis. DNR deer biologist Ashley Autenrieth tells WSJM News bovine TB is an ailment in deer that can sometimes be spotted when a hunter is dressing a deer. They're asked to watch out for signs.
"We've got several pictures up at our offices, but essentially they're small, yellowish-white nodules that would be all around the chest cavity and lungs," Autenrieth said.
However, that only applies to about 40% of cases.
"That's why we really recommend that people just on their way to wherever they need to go, stop with their deer at a deer check station and have that animal tested," Autenrieth said.
Autenrieth says bovine tuberculosis can be transmitted to humans, and so it is not advisable to consume the meat of an infected animal. There is a six-county area in the northeastern Lower Peninsula where bovine TB is most found, and that's the specific area to note. You can find out more right here.
Example from the DNR of bovine tuberculosis web page can be seen below.