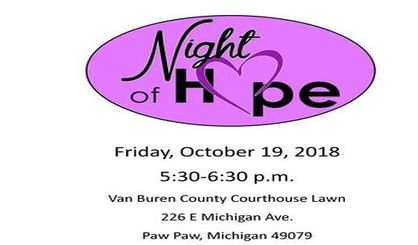 October is National Domestic Violence Awareness Month and the Domestic Violence Coalition of Van Buren County, located in Paw Paw is ready to help. The U.S. Department of Justice estimates 1.3 million women and 835,000 men are victims of violence by at partner every year. Domestic Violence Coalition Executive Director "Melanie" says they take many calls.
"In Van Buren, County, the Domestic Violence Coalition assists victims with domestic and sexual violence all over Van Buren County," Melanie said. "There is a referendum nationwide that says today is Domestic Violence Awareness Month so we can recognize those who have unfortunately lost the fight."
For a complete list of help offered, visit DomesticViolenceCoalition.org. You can also call 800-655-9008. The Domestic Violence Coalition is planning a Night of Hope for this October 19 from 5:30 to 6:30 p.m. at the Van Buren County Courthouse lawn. There will be speakers and a walk to remember those who have been victims of domestic violence.