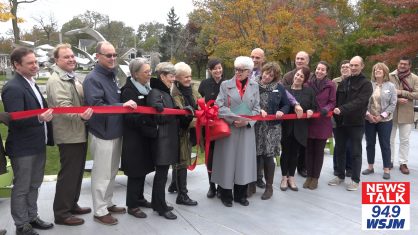 A brand new feature of the Krasl Art Center in St. Joseph is officially open.
On Thursday, the ribbon was cut on Sculpting Community, an outdoor space for public art and community gathering. Sculpting Community is meant to be another destination for people who visit St. Joseph.
"[Sculpting Community is] a place where people can come and hang out, they can come and sit and have picnics, they can gather around and explore and discover the sculptures on this property," said Julia Gourley, executive director of the Krasl Art Center.
Sculpting Community features a statue by artist Richard Hunt that serves as the entrance, a courtyard, a shaded space to sit and charge devices, and a fire area. Gourdley says Krasl is looking to start hosting events with the Sculpting Community space in the spring and summer of next year.