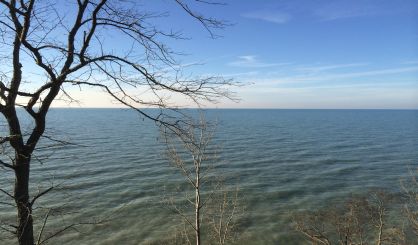 By Doug Cunningham
What does the new post-election political landscape mean for the Great Lakes? The Alliance for the Great Lakes is optimistic, seeing opportunities at both the state and federal levels to advance environmental protections. Alliance for the Great Lakes President and CEO Joel Brammeier says they are taking stock of the new political landscape. Their optimism comes largely from the newly elected Great Lakes states governors.
"I hope that all those candidates actually are gonna follow through on what they said in the campaigns and really understand that thinking green, thinking  blue is the way to a more prosperous and more healthy midwest."
Michigan Governor-Elect Gretchen Whitmer, Brammeier says, was the strongest on Great Lakes policy. And Brammeier says he disagrees with the Michigan Building and Construction Trades Council's belief that Whitmer can be persuaded to change her stance against the Line 5 oil and gas pipeline in the Mackinac Straits.
"She's made it really clear that that's her position. So I have no reason to think she's gonna deviate from that. In fact, that was something she and Mr. Schuette clearly differed on. So I have no reason to think she's going to deviate from the commitment she made. In fact, Governor Whitmer had the most thoughtful and comprehensive water agenda of any of the Great Lakes Gubernatorial candidates."
Brammeier says with the political shift the Alliance for the Great Lakes can go from "defending old victories to advancing new ones."